Cooking can be a delightful and fulfilling experience, but sometimes accidents happen in the kitchen. One common mishap is ending up with a burnt Instant Pot after a culinary adventure. The sight of burnt-on residue can be disheartening, but fear not! In this guide, we will provide you with valuable tips and techniques to effectively clean a burnt Instant Pot.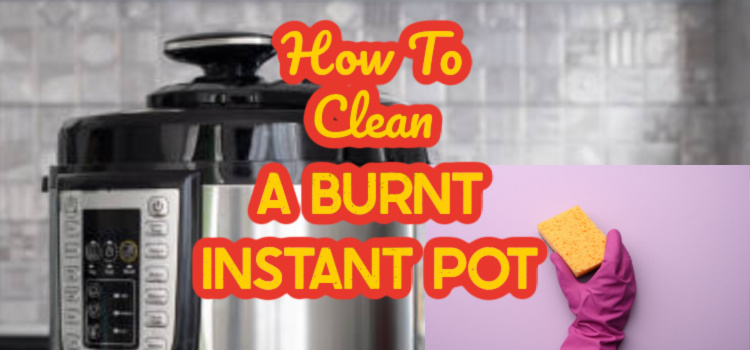 Cooking mishaps happen to the best of us, and dealing with a burnt Instant Pot can be quite a challenge.
In this informative article, we will guide you through a step-by-step process on how to effectively clean a burnt Instant Pot.
With a little patience and some handy tips, you'll have your Instant Pot sparkling clean and ready for your next culinary adventure.
How to clean a burnt Instant Pot
Safety First
Before you begin cleaning, ensure that the Instant Pot is unplugged and completely cooled down. Safety is of utmost importance to prevent any accidents or injuries during the cleaning process.
Assess the Damage
Take a closer look at the burnt Instant Pot to determine the severity of the situation. If the burnt residue is mostly dry, proceed to Step 3. If the residue is still wet or sticky, follow the substeps below: a. Fill the Instant Pot with warm water and let it soak for about 30 minutes to loosen the residue. b. After soaking, proceed to Step 3.
Gentle Scrubbing
To avoid damaging the Instant Pot's inner coating, use non-abrasive cleaning tools such as a soft sponge, nylon brush, or non-scratch scrubber. Avoid using steel wool, abrasive cleaners, or sharp objects that can scratch or chip the surface.
Homemade Cleaning Solution
Create a gentle yet effective cleaning solution using ingredients readily available in your kitchen. Combine equal parts of white vinegar and water in a bowl or spray bottle. Vinegar helps to break down stubborn burnt-on residue without harming the Instant Pot.
Soak and Scrub
Dampen the soft sponge or scrubber in the vinegar-water solution and apply it to the burnt areas of the Instant Pot. Allow the solution to soak for a few minutes, as it will help further loosen the burnt residue.
Scrubbing Technique
Gently scrub the burnt areas in a circular motion, applying light pressure. Avoid scrubbing too vigorously, as it can damage the Instant Pot's coating. If needed, reapply the vinegar-water solution to keep the burnt areas moist while scrubbing.
Rinse Thoroughly
Once you have successfully removed the burnt residue, rinse the Instant Pot with warm water to remove any remaining cleaning solution. Pay close attention to ensure all the residue is completely washed away.
Drying
After rinsing, pat the Instant Pot dry with a clean towel or allow it to air dry naturally. Make sure there is no moisture left on the surface to prevent any potential damage or corrosion.
Cleaning a burnt Instant Pot may seem like a daunting task, but with the right approach and a little bit of effort, it can be easily accomplished.
Remember to take your time, be patient, and follow the steps outlined in this article.
With practice, you'll become a pro at restoring your Instant Pot to its former glory.
Happy cooking!
recipes you may enjoy: